Local Products
Zakynthos has a mild Mediterranean climate with a lot of rain between November and January and plenty of sunshine throughout the year.
It is an island with lush vegetation and rich in agricultural products based on the cultivation of olives, citrus fruits, grapes and flowers.

Currants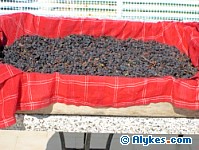 One of the main sources of income for local farmers for many years is the cultivation of black grapes which are then dried naturally in the sun to become currants.
The currants are used in Greece in the making of other products and they are also exported to other European Union countries.

Wine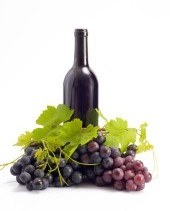 Zakynthos has many large vineyards all over the island which produce different types of wine.
Each family traditionally produces its own wine which is drunk daily with the family meal. In many villages this is a tradition which is still very popular.
There are many different types of grapes used and each wine is unique with its own taste, colour and aroma.
There are many wine producers which sell the wine all over Greece and also export it abroad.
Click on the links below to visit the websites of Zakynthian wine producers


Oenolpi Winery - (www.oenolpi.gr

)


Art & Wine Winery- (www.artandwine.gr

)


Olive oil
The island of Zakynthos is full of olive groves and a key source of income to the local farmers is olive oil.
Families still harvest the olives around November and take them to the local processing plant which each village has to be turned into olive oil in the traditional manner.
It is the high quality and standard of the olive oil that makes it another popular product to be exported.

Honey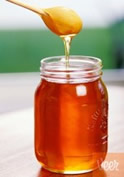 In the mountain villages of Zakynthos. honey is still produced in a traditional natural way and has a wonderful unique taste.
You can purchase honey from the Zakynthian shops and also from the locals who sell their wares by the roadside.

Cheese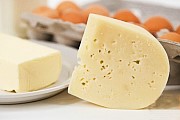 Zakynthos has its own special cheese which is native to the island.
The cheese is called Ladotyri and is a hard cheese produced from goat's milk and sheep's milk.
The name Ladotyri is taken from the Greek words for oil and cheese, as the traditional procedure used to make the cheese involves it being kept for long periods of time in olive oil giving it a wonderful spicy flavour.

Mandolato - Fytoura - Pasteli
Mandolato, Fytoura and Pasteli are traditional local sweets of Zakynthos which have been made from recipes passed down through the generations.
The Mandolato is nougat made with egg whites, honey, sugar and almonds and is usually consumed during Carnival time.
The Fytoura is made from semolina, fried and covered in lots of sugar and the Pasteli is made with sesame seeds, honey and almonds. Both of these are sold throughout the summer months by stall holders in Zakynthos Town.


"Zante Pleasure" - Mantolato factory - (www.mantolato.gr

)


Ceramics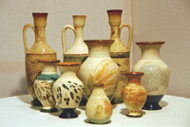 Throughout Zakynthos Island, you will find many pottery workshops where artists produce beautiful handcrafted ceramics.
Some workshops offer you the chance to see the process and make your own pieces. The ceramics are made by moulding the clay, decorating the piece using spikes and traditional tools, firing it in a kiln and then colouring and glazing the product.
Using the designs and techniques of Byzantine ceramics it is very difficult to find two pieces alike therefore each is unique.